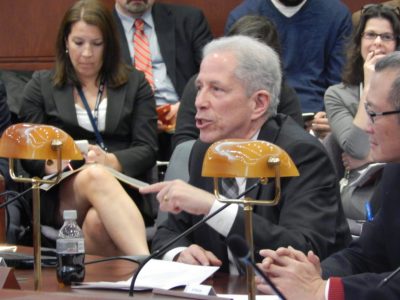 Connecticut has the potential to become a national leader in the growing field of precision medicine, which aims to tailor disease prevention and medical treatment to individuals' unique genetic code, environment and experiences, scientists and industry officials told a state economic competitiveness panel Friday.
But that potential comes with caveats, several said: Connecticut is far from alone in seeking to be a top player in the field. Other states have put money into supporting the field, and Connecticut must too, some researchers said.
"This opportunity is huge from an economic perspective. I think the question is whether Connecticut wants to play," Dr. Peter Bowers, chief medical officer at Anthem Blue Cross and Blue Shield, told members of the Connecticut Commission on Economic Competitiveness and the legislature's Commerce Committee Friday.
During the meeting at the Legislative Office Building in Hartford, commission members wrestled with issues including Connecticut's ability to compete and whether there's a role for people without college degrees in a field based on advanced science and medicine.
The meeting coincided with the release of a report by the Connecticut Health Data Collaborative, which was created by legislation last year to strengthen links between existing institutions in the state. It outlined goals including establishing a Connecticut Center for Genomic Medicine, establishing a more formal way to coordinate efforts and foster public-private partnerships, and identifying and addressing workforce gaps and needs.
"The state has the potential to improve overall population health while investing in the solutions at the same time," the report said. "Cultivating an economic environment that will attract and retain researchers and entrepreneurs to build on existing innovations will be a key to our success."
Dr. Robert Alpern, dean of the Yale School of Medicine, said the ability to quickly and inexpensively sequence a person's genetic code could make it possible to improve medical treatment by identifying which patients will – and won't – respond to certain medications, or have a predisposition to developing certain conditions.
But while knowledge about specific genes allows some precision medicine approaches today, for most conditions the concept is still a dream, he said. But, he added, getting there won't take decades.
"This is not a dream for 30 years from now. This is a dream for the next one to three years," he said.
Among the key ingredients for precision medicine: the technology to sequence DNA, which Yale has invested in; a large base of patients willing to have their DNA sequenced; and high-quality records to match their medical histories with the genetic data.
Alpern said Yale has gone "all in" on the field and has had discussions with UConn and The Jackson Laboratory, which has a genomic medicine institute in Farmington, to work together. Patients receiving care at one of the Yale New Haven Health System hospitals or at UConn's John Dempsey Hospital would have their tissue harvested so DNA could be isolated. Yale would sequence the DNA, and all three institutions would analyze the information.
"We believe that the three institutions are well-situated to make Connecticut a leader in genomic medicine," Alpern said.
Joseph McGee, who co-chairs the commission and is vice president for public policy and programs at The Business Council of Fairfield County, pressed Alpern about the state's ability to become a leader in the field, given competition from others, including Baylor University in Texas and the Broad Institute in Massachusetts.
"I would love to tell you that we will be number one. I probably can't guarantee that, but we will be among them," Alpern said.
Will we be in the top five? McGee asked.
Yes, Alpern said.
McGee also asked about the scale of job creation.
"The state's made commitments to bioscience," he said. "Help me understand how this private investment grows jobs. What are we looking at five years out? One-hundred jobs? Ten-thousand jobs?"
Investing in a genome center will generate a significant number of jobs, but not on that scale, Alpern said. But, he said, it leverages the ability to attract federal money to the state, including through grants from the National Institutes of Health. That can add more jobs, as will the ability to attract industry and small start-ups.
Others made more specific asks.
Dr. Murat Gunel, a neurosurgeon and executive director of the Yale Center for Genomic Analysis, said matching funds from the state would allow efforts to progress. He noted that Indiana recently invested more than $300 million in research and New York has funded a genome center.
While there is clear economic value to precision medicine, how to best use it to foster economic development remains unclear, said Dr. Edison Liu, president and CEO of The Jackson Laboratory, which built its Farmington institute with $291 million in state funding.
That uncertainty, he said, "presents a real opportunity for new players, like Connecticut, to compete against the Bostons and Silicon Valleys of the world."
Nevada has been drawing tech businesses from California because of its proximity, lower taxes and lower start-up costs, Liu said, adding that Connecticut could potentially use a similar approach to appeal to companies in New York and Massachusetts.
Todd E. Arnold spoke about working for a New York-based organization that built a facility in Branford. He's managing director of the Mount Sinai Genetic Testing Laboratory – Connecticut, which is part of the Icahn School of Medicine at Mount Sinai.
Why did they pick Branford? Arnold cited several reasons: It's near universities, in an area with a history of biotechnology development; the employee pool is very well-educated for a state of Connecticut's size; and Branford is a reasonable commute from Manhattan.
Both state and local economic development officials made it easy to establish a site there, he added. At first, Mount Sinai looked to locate its lab in New Haven, but found there wasn't space there. They might have just given up and found a place in New York, Arnold said, but economic development officials from New Haven suggested they look in Branford.
"There's a good quality of life here, and I think we need to leverage that," he said.
Some members of the panel asked about the types of jobs the field would create, particularly for those without college degrees.
Dr. Bruce Liang, dean of the UConn School of Medicine, said there will be a growing need for genetic counselors to talk to patients about the information genomic testing uncovers. And Liu noted that Jackson employs hundreds of people – in Connecticut and Maine, where its headquarters is located – who have just a high school degree. (Jackson recently raised its minimum wage to $15 an hour.)
Rodney Williams, a commission member from New Haven, raised concerns about whether the jobs precision medicine could create would be accessible to local residents, and said Yale should do more to help ensure students develop the skills that will be needed. While data will have to come from state residents, he said, jobs should go to them too.
And Lori Pelletier, a member of the panel and leader of the Connecticut AFL-CIO, raised a similar concern. "We have to worry about folks that earn a living with their hands," she said.
But Rep. Dave Yaccarino, R-North Haven, pushed back, saying it's important that those concerns don't stop progress in a field he believes Connecticut can lead.
"When we build these facilities, you have to have construction, you have to have site work, you have to have everything. It helps every other business," he said. "I understand what you're saying…You have to start somewhere."
This story was updated to correct the amount of state funding The Jackson Laboratory received for its Connecticut institute.
—
By Arielle Levin Becker | Story courtesy of CT Mirror
---