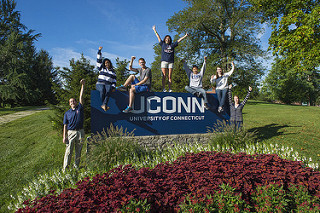 Professors often collaborate on projects with others close to home or around the world. A recent announcement of the 2017 Academic Plan Proposal Awards highlights how several CAHNR faculty members successfully work together with colleagues right here at UConn.
Seven people from the College, with various job titles, are included in three projects that aim to advance at least one of the five key goals of UConn's academic plan.
"Collaborating is an increasingly important part of science because no one can be expected to know everything about the cutting-edge research, testing or treatments," said Department of Allied Health Sciences Associate Professor in Residence Judy Brown.  She has first-hand experience working with others in the genetics and genomics field and, with two colleagues from UConn Health, received a Level 1 Academic Plan Proposal Award for work in the area of teaching and engagement. 
The three scientists will initiate an interdisciplinary and accredited professional science master's degree program in genetics, genomics and counseling.  This program will be the first at a New England public institution and the first in Connecticut, according to UConn Today. "Bringing together expert faculty from other departments and from the multiple disciplines of genetics and genomics is a mutual gain," Brown said.
Another Level 1 award goes to Plant Science and Landscape Architecture Professor Emerita Carol Auer and four collaborators from ecology and evolutionary biology. Their proposal, "Biological Risk and Big Data: Sustainability and Resilience in the Era of Global Change," aims to support the research and scholarship key goal of the academic plan. According to UConn Today, the project will seek to "understand and mitigate emerging threats to agriculture, natural resources, human health, and the economy."
The award, which fits in the strategic area of Sustainability & Resilience: Environment & Energy, will help UConn establish an Institute of Biological Risk. The Institute has already attracted media attention, including that of the Associated Press.
A proposed climate change project, "The UConn Climate Corps: Serving Connecticut's Communities while Providing a Unique Undergraduate Learning Experience," addresses two of the key goals, undergraduate education and public engagement. The proposal will receive a Level 2 award to create the UConn Climate Corps.
Participating with geography and civil and environmental engineering faculty members are Extension Educator Chester Arnold, Associate Extension Educator Juliana Barrett, Professor and Director of the Sea Grant College Program Sylvain De Guise, Assistant Extension Educator Bruce Hyde and Professor John Volin from the Department of Natural Resources and the Environment.
For the projects, Level 1 awards give funding amounts between $200,000 and $300,000 and Level 2 awards are between $125,000 and $150,000. Both levels have multi-year terms. The five key goals of UConn's Academic Plan are research and scholarship, undergraduate education, graduate education, teaching effectiveness and public engagement. More about UConn's Academic Plan is on the Academic Vision pages of the Provost's website.
—
By Patsy Evans | Story courtesy of Naturally@UConn
---