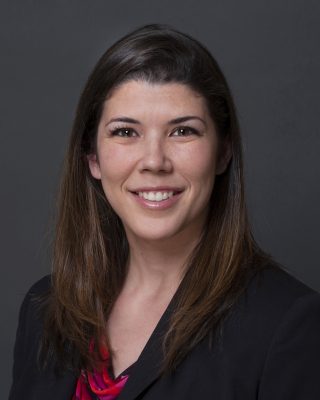 The Department of Allied Health Sciences in the College of Agriculture, Health and Natural Resources and the Institute for Systems Genomics at the University of Connecticut together are pleased to welcome Maria Gyure, MS, CGC, to our faculty as a lecturer and the Director of the Genetic and Genomic Counseling Master's Degree Program.
Maria Gyure (née Mangual) attended UConn on a 4-year Academic Leadership Scholarship where she went on to earn a Bachelor of Science degree in Diagnostic Genetic Sciences and a minor in Molecular and Cell Biology in 2001. Maria completed her internship in the cytogenetics laboratory at UMass Memorial Medical Center and then went on to work in both cytogenetics and molecular genetics at Dianon Systems in Shelton, CT for two years. Upon relocating to Virginia, she served as a scientist for the VA state newborn screening laboratory for more than two years.
Maria subsequently matriculated into the Genetic Counseling Program at Virginia Commonwealth University in Richmond, VA, where she earned a Master's of Science in Genetic Counseling and completed the VA Leadership Education in Neurodevelopmental Disabilities (Va-LEND) program in 2007.
Maria was a practicing genetic counselor at Baystate Medical Center in Springfield, MA, before returning to VCU where she has since excelled in many roles. Maria has worked as a practicing genetic counselor in the Department of Human and Molecular Genetics, as an instructor of the Practice of Genetic Counseling 1 and 2 course at VCU, and as a clinical student supervisor. Within the department, Maria combined genetic counseling with research and served as the research coordinator for an NIH-funded study to test an intervention aimed at increasing family communication about cancer.  Maria's current role is within the School of Education's Department of Counseling & Special Education as research faculty and research coordinator for BEST in CLASS where she manages multiple federally funded research grants on interventions for young children at risk for emotional and behavioral disorders.
Maria has several publications in her specialty in addition to invited presentations and service on graduate advisory committees. She is a true voice for underserved populations. She will be joining co-Director Dr. Judy Brown in August 2017 to complete the documentation and compile the application materials to seek accreditation for the Genetic and Genomic Counseling program from the Accreditation Council for Genetic Counseling and for affiliation with the Professional Science Master's Association. We welcome Maria and look forward to having her back at UConn to share her experiences and knowledge with all our genetics students. The anticipated start date for the genetic and genomic counseling program is fall 2019. Stay tuned to our Genetic Counseling website for additional program information.
---